The Justice Ball benefits Bet Tzedek who provides free legal services to low income famlies in Los Angeles.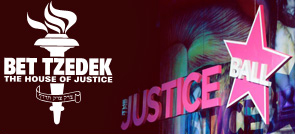 The Justice Ball is a huge party of over 3,000 young professionals in Los Angeles.  It is always one of the biggest events of the summer.  The proceeds go directly to fund Bet Tzedek's efforts to keep low income folks from losing their homes to credit scam artists, running the Holocaust Reparations Clinic for survivors of the Holocaust, fighting unscrupulous employers who prey upon low income workers, and many other types of cases. 
Bet Tzedek is making a difference in the lives of people all over Los Angeles every day. 
This year, Dave Navarro and DJ Skribble will be playing The Justice Ball.  It is going to be an awesome night.  You can learn more about Bet Tzedek at www.bettzedek.org and more about The Justice Ball at www.thejusticeball.org
 
Where:  The Hollywood Palladium, 6215 Sunset Boulevard, Los Angeles, CA 90028, (323) 962-7600

When:   June 26, 9:00 p.m.

Tickets: $75 for general admission, $150 for VIP.  VIP tickets grant access to the VIP lounge and open bar all night.  www.thejusticeball.org
Parking is available at the Palladium or on surface lots across the street.