AD Race 66 Al Muratsuchi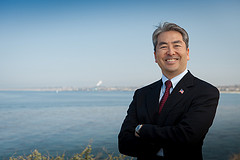 Al needs our help!  He is the only Democrat who stood up and took on the challenge of running in the newly re-districted and red AD 66 when Betsy Butler abandoned her district and her constituents to run a against Torie Osborn in AD 50.  He is running against Tea Party candidate Nathan Mintz who was beaten by Betsy Butler in her first term.
He served as President of the Torrance School Board in 2009. During Al's tenure on the school board, Torrance Unified has maintained its status as a high-achieving school district despite state budget cuts, consistently delivered a balanced budget of up to $200 million, and embarked on the largest school repair and modernization program in the district's history. Al also represents Torrance Unified as a Board Member of the Southern California Regional Occupation Center, a joint career technical education program provided by seven South Bay school districts, including Manhattan Beach, Palos Verdes Peninsula, Redondo Beach, and Torrance.
Moreover, Al is a Deputy Attorney General and a prosecutor with the California Department of Justice. Prior to joining the Department of Justice in 2001, Al was a prosecutor with the Los Angeles County District Attorney's Office and the Santa Ana City Attorney's Office.